Scroll naar beneden voor Nederlandste tekst
Let's get to know each other…
My name is Rita Nijland and together with my husband Fred I keep the Weimaranerkennel 'Of Mistic Grace'. We live with our family in the Dutch village of Haaksbergen. From a very young age I grew up with dogs and had the wish to breed with them one day. So in 1995 I got my diploma in general knowledge of cynology (Algemene Kennis Kynologie) in Amsterdam. After that I devoted myself to the breeding of another breed. I stopped with this when my husband and I got children. Now that our children are older, we focus ourselves on breeding Weimaraners.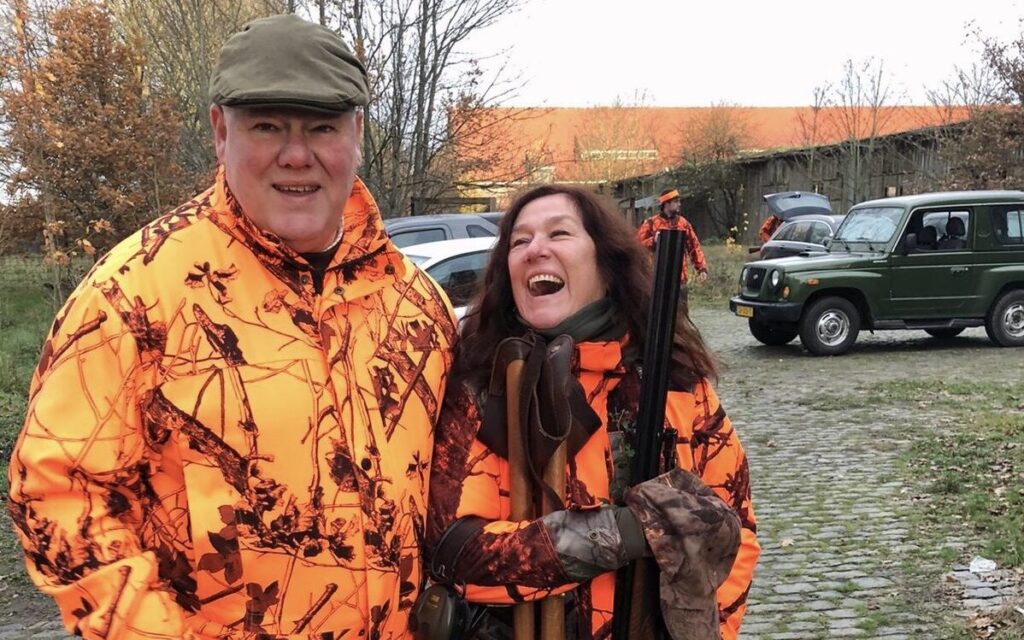 In 2013 we came into contact with shooting sports and hunting. Since 2015 we are both official hunters and so the search for a hunting dog that suits us started. Our eye soon fell on the Weimaraner. We got to know the Weimaraner as a very people-oriented dog. In the house they prefer to be as close to you as possible and in the field they don't lose sight of you. Besides a graceful appearance, the Weimaraner is also known as very smart, playful and energetic. It is a sporty dog that likes to work for you. The Weimaraner is mainly known as a hunting dog but the breed is also suitable for other purposes. It is an energetic dog that needs to be actively worked with.

These characteristics really appealed to us and in the autumn of 2015 we were finally allowed to pick up our Misthy "Broadway Dancer of the Grey Noble". The beginning of a great adventure.
We took her with us on practical hunt in Germany. But above all, she played a central role in our family. She was a relaxed, satisfied dog in the house and an active, playful dog outside. Because of our love for her the wish to breed a litter soon arose. Our goal is to breed healthy Weimaraners with attention to a beautiful appearance, a nice character and will to please. Misthy is the great source of inspiration for our kennel name 'Of Mistic Grace'. We consciously chose Mistic with an i to express her name in our kennel. Grace stands for her graceful appearance.
Sadly, our beloved Misthy passed away on the 27th of june 2022. We miss her everyday and she leaves a huge void in our family.
A little warning in advance;
Before you know it, a Weimaraner has stolen your heart!
Are you interested? Feel free to contact us, we will be happy to help you. Maybe goodbye and a warm greeting, Fred & Rita Nijland
We are members of the Dutch Associations 'Vereniging de Weimarse Staande Hond' & 'Nederlandse Weimaraner Club'.
Our kennel name is registered with the Dutch Board of Directors and the FCI.
---

Even kennismaken…
Mijn naam is Rita Nijland en samen met mijn man Fred hou ik de Weimaranerkennel 'Of Mistic Grace'. Wij wonen met ons gezin in Haaksbergen. Van jongs af aan ben ik opgegroeid met honden en had ik de wens hier ooit mee te fokken. In 1995 heb ik zodoende mijn A.K.K.-diploma (Algemene Kennis Kynologie) gehaald in Amsterdam. Vervolgens heb ik mij met veel toewijding bezig gehouden met het fokken van een ander ras. Ik ben hier mee gestopt toen mijn man en ik kinderen kregen. Nu onze kinderen ouder zijn leggen wij ons toe op de fok van Weimaraners.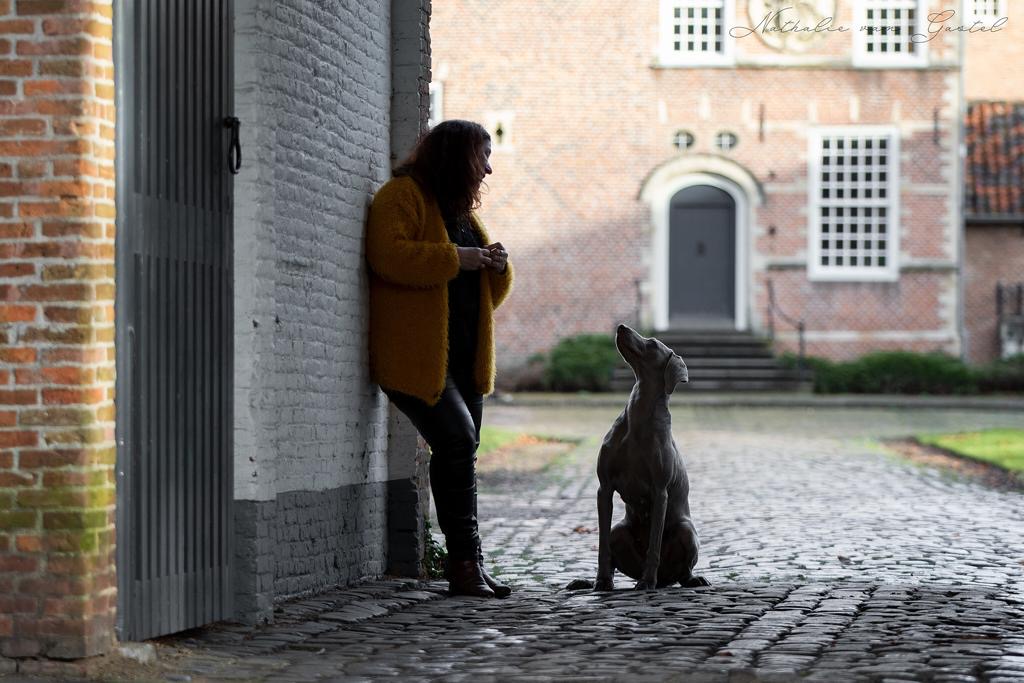 In 2013 zijn wij in aanraking gekomen met schietsport en de jacht. Wij zijn sinds 2015 beide officieel jager en zodoende begon de zoektocht naar een jachthond die bij ons past. Ons oog viel al snel op de Weimaraner. Wij hebben de Weimaraner als een zeer mensgerichte hond leren kennen. In huis het liefst zo dicht mogelijk bij je zijn en in het veld je niet uit het oog verliezen. Op jacht plezierig onder het geweer. Naast een gracieus uiterlijk is de Weimaraner zeer slim, speels en energiek. Het is een sportieve hond die graag voor je werkt. De Weimaraner staat met name bekend als jachthond maar het ras is tevens geschikt voor andere doeleinden. Het is een energieke hond waar actief mee moet worden gewerkt.

Deze karaktereigenschappen spraken ons erg aan en in het najaar van 2015 mochten wij dan eindelijk onze Misthy "Broadway Dancer of the Grey Noble" ophalen. Het begin van een groot avontuur.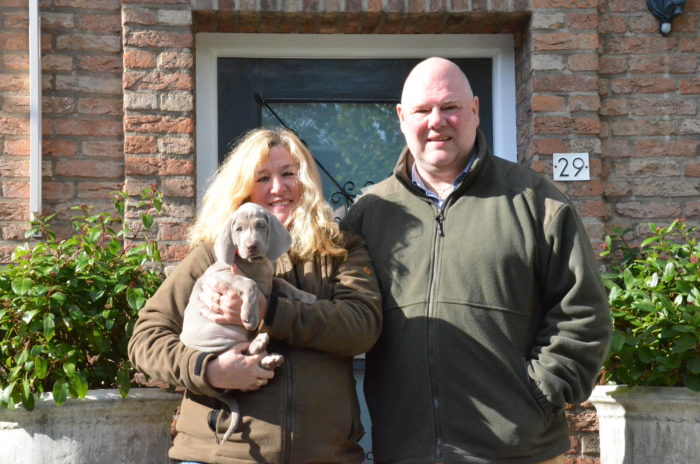 Wij namen haar veel mee op praktijkjacht in Duitsland. Maar ze nam vooral een centrale rol in binnen ons gezin. Ze was een relaxte, tevreden hond in huis en een actieve, speelse hond buiten. Door onze liefde voor haar ontstond al snel de wens om een nestje te fokken. Ons doel is het fokken van gezonde Weimaraners met aandacht voor een mooi uiterlijk, een fijn karakter en will to please. Misthy is de grote inspiratiebron voor onze kennelnaam 'Of Mistic Grace'. Wij hebben bewust gekozen voor Mistic met een i om haar naam tot uitdrukking te brengen en Grace vanwege haar gracieuze uiterlijk.
Helaas is onze geliefde Misthy op 27 juni 2022 overleden. Wij missen haar nog elke dag en ze laat een enorme leegte achter in onze familie.
Een kleine waarschuwing vooraf;
Voordat u het weet heeft een Weimaraner uw hart gestolen!
Heeft u interesse? Neem dan gerust contact met ons op, we staan u graag te woord. Wellicht tot ziens en een hartelijke groet, Fred & Rita Nijland
Wij zijn lid van: Vereniging De Weimarse Staande Hond & Nederlandse Weimaraner Club
Onze kennelnaam staat geregistreerd bij de Raad van Beheer en de FCI.